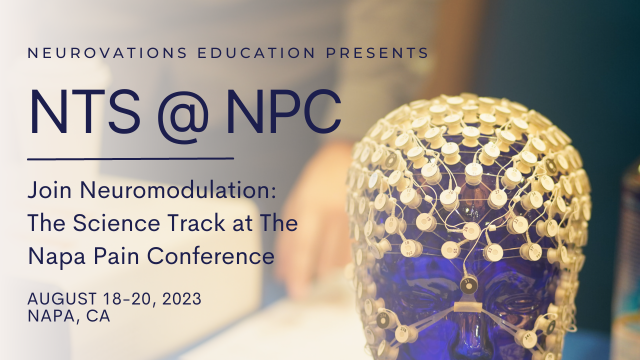 Neuromodulation: The Science Conference joins the Napa Pain Conference August 18-20, 2023.

NTS @ NPC exists to advance research, dissemination of knowledge, and implementation of new findings within neuromodulation and is the foremost meeting addressing the emerging mechanisms of neuromodulation and how these advances shape technology and clinical implementation.
Neuromodulation: The Science (NTS) is established as the forum where leaders across academia, industry, and health-care converge to share and discuss emerging science underpinning and disrupting neuromodulation. Conference co-founder of NTS, Elliot Krames, MD established the journal Neuromodulation: Technology at the Neural Interface in 1998 as the preeminent journal to advance basic science research in the field of neuromodulation.
Dr. Eric Grigsby is CEO and Founder of Neurovations, a national leader in medical device and pharmaceutical innovation, clinical research, and a world-class education program focusing in pain and neuroscience.
Dr. Marom Bikson previously co-chaired Neuromodulation The Science (NTS) conference and will support the NTS content at Napa Pain. Dr. Bikson is founder of Neuromodec, a leading free online service created to support the development of neuromodulation through shared resources. The 2023 Napa Pain conference is partnered with Neuromodec.
Topics and pathways at this year's conference
History & Mechanisms
Indications & Implementation
Frontiers in Neuromodulation